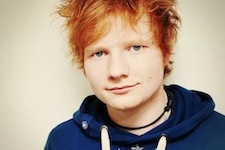 Ed Sheeran is definitely paying his respects to Van Morrison here. The vocal style, the blue-eyed soul groove and melody, and the personal, honest lyrics all recall hit singles like Van's "Into the Mystic." But there are contemporary elements, too – an emphasis on current melody phrasing patterns and tight lyric focus that appeals to today's listeners.
This song is a co-write with Amy Wadge, a songwriter Sheeran has worked with before. In fact, he wrote an entire EP of songs with her called Songs I Wrote With Amy.  It's a great example of a first-rate songwriter who certainly doesn't need a co-writer. There are many reasons to collaborate: speed, new ideas and techniques, another writer's perspective, and more.
TECHNIQUES TO HEAR AND TRY:
– Keep your lyric focused on your theme
– Use your melody to make a  basic chord progression

 sound fresh
– Create a simple but effective instrumental arrangement
Read the lyrics here: Thinking Out Loud – Ed Sheeran
Buy it now or listen on your preferred music site (Spotify, Rdio, Rhapsody, etc.).
Recorded by Ed Sheeran
Writers: Ed Sheeran & Amy Wadge
GENRE/STYLE (What is a genre?)
The song's blend of Blue-Eyed Soul and contemporary singer-songwriter propelled this song to the top of the Mainstream Top 40 charts in the U.S. and global hit status. It has the kind of positive, love-themed lyric and easy melody that suggests it's likely to be a standard on Adult Contemporary (AC) radio for years to come. Continue reading →