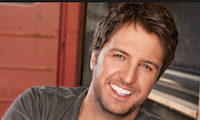 There are always a whole lotta party-all-night, feel-good songs on the Country music charts, especially in the summer. It's a theme with tons of appeal for Country listeners.
The songwriting on all these hits is solid, of course, but, after a while you might start to notice a certain same-ness to the lyrics. They all seem to have pickup trucks, beer, and girls in shorts. So, wouldn't it be cool if you could  write a hit song with this commercially appealing theme and set yourself a little apart from the crowd? Let's take a look at a  Country hit that does exactly that.
"Play It Again," the summer 2014 hit song recorded by Luke Bryan, has the required tailgate and girl in shorts but the song brings this girl to life in a way that's vivid and believable. You get a real sense of both the singer's character and the girl's. The song plays out like a series of scenes, fun to watch and easy to get caught up in.
Take a listen to the song on YouTube. I chose a video with lyrics rather than images so you can run your own mental movie while you listen. Notice how the song paints pictures for you.
Artist: Luke Bryan
Writers: Dallas Davidson & Ashley Gorley
The Shortcut numbers below refer to specific chapters in my books "Shortcuts to Hit Songwriting" ("Hit") and "Shortcuts to Songwriting for Film & TV" ("Film/TV").

GENRE/STYLE
The genre is Contemporary Country. (What is a genre?)
SONG STRUCTURE
The song structure is…
VERSE / PRE-CHORUS / CHORUS
VERSE / PRE-CHORUS / CHORUS
BRIDGE / CHORUS Continue reading →