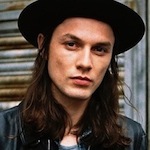 "Hold Back the River" became a huge international hit soon after its release in late 2014. Universal themes of nostalgia, regret, and lost innocence are conveyed in conversational yet evocative language. The chorus melody is memorable and has a folksy authenticity that adds to the singer's credibility.
There are many simple songwriting techniques here that you can use in songs of your own: a family of related images, words that have emotional associations, varied phrase lengths in the melody, and an easy trick for catching the listener's attention with your chorus. Let's take a look at how these work together to create a hit song.
TECHNIQUES TO HEAR AND TRY:

• Use images to intensify emotion.

• Create contrast between sections with phrase lengths.

• Add an octave to lift the energy.
Read the lyrics here: Hold Back the River – James Bay
Buy it now or listen on your preferred music site (Spotify, Rdio, Rhapsody, etc.)
Recorded by James Bay
Writers: James Bay & Iain Archer
GENRE/STYLE  (What is a genre?)
I'm going with Folk/Rock on this one. The lyric palette features images of nature and rural life. The melody is fairly straight ahead, closer to the Indie Folk style of "Gone Gone Gone" by Phillip Phillips than to the quirky, unpredictable melodies of Alt Pop or Alt Rock, where it is sometimes classified. The track relies on acoustic guitar-style melody lines and strumming (although played on electric guitar), there's not a whiff of synthesizer or electro anywhere around. The drums are live (and great). Folk/Rock has made a very successful comeback after being out of fashion for the last few decades.
SONG STRUCTURE
This structure looks complicated but sounds cohesive and natural when you listen to the track. The verse melody functions as both an instrumental and vocal hook. The bridge reappears at the end of the song as a tag, after which we hear the hook one more time. Every melody is used and reused. There are, in fact, only three different melodies: 1) verse and hook, 2) chorus, and 3) bridge. Continue reading →