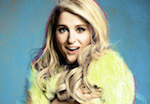 Question: How do you follow up a platinum, career-launching single like "All About That Bass"? Answer: With two more relentlessly catchy, upbeat songs that build on a similar radio-friendly, retro-blend sound.
Which is exactly what Meghan Trainor did. But after the third single – as much fluffy fun as it was – listeners were bound to wonder if things weren't starting to sound a little same-y. Time for something new. Trainor hit the sweet spot with a ballad/duet with John Legend that slides perfectly into Trainor's throwback sound while revealing more emotional depth.
TECHNIQUES TO HEAR AND TRY:
• Blend vintage and contemporary song elements.
• Maintain lyric focus.
• Make your melody memorable by using patterns.

Read the lyrics here: Like I'm Gonna Lose You – Meghan Trainor w/ John Legend
Buy it now or listen on your preferred music site (Spotify, Rdio, Apple Music, etc.).
Recorded by Megan Trainor and John Legend
Writers: Meghan Trainor, Justin Weaver, Caitlyn Smith
GENRE/STYLE  (What is a genre?)
This is a great example of a retro-blend song that drops neatly into today's Adult Contemporary/Pop genre. Producer Chris Gelbuda calls the overall album style "Doo-Wop/Pop Throwback" and references "Stand By Me" by Ben E. King as an influence on this particular song. I'm reminded of classic Marvin Gaye/Tammi Terrell duets like "Your Precious Love" and "You're All I Need to Get By." From the moment John Legend enters on Verse 2, there are references this classic duet sound.
Underlying all this rich, vintage Soul is a poetically modern lyric, an unusual lyric theme, a loop-style rhythm track, and a punchy, dry mix. All of which give this song a contemporary edge. Continue reading →