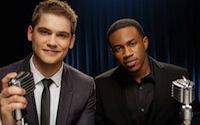 "Retro-Blend" is definitely the phrase du jour. Today's Pop charts are sounding more and more like the music charts of long ago, from the Neon Trees' "Everybody Talks" to Robin Thicke's "Blurred Lines" to Bruno Mars' "Locked Out of Heaven."
Retro-influenced songs like these evoke the best of yesterday blended with today's melody, lyric, and production techniques.
Two of the latest hits to pay their respects to the oldies are Pharrell Williams' "Happy" and MKTO's "Classic." If you can remember dancing to Marvin Gaye and the Jackson 5, then you've got a big head start on this style. But the commercial magic is in the blend of old and new. Today's listeners want it ALL. So let's a take a look at a Pop hit that delivers the best of yesterday and today. It's "CLASSIC"!
Recorded by MKTO
Writers: Evan Bogart, Andrew Goldstein, Emanuel Kiriakou, Lindy Robbins
The Shortcut numbers below refer to chapters in my books "Shortcuts to Hit Songwriting" ("Hit") and "Shortcuts to Songwriting for Film & TV" ("Film/TV").
GENRE
The genre is retro-blend Pop. This track is obviously paying its respects to the Jackson 5's  "I Want You Back." The tempo is very close and the feel of the groove is similar. There are little sections of the melody that suggest the Jackson 5 original and touches in the arrangement, especially the rhythm electric guitar.
This is a perfect example of a song you'll find a little further down on the Pop charts. That's why it's important not to stop with the top five or ten songs. Keep digging for those gems – the ones that make you say "I wish I'd written that!" These are the songs you want to learn from.
STRUCTURE
The song structure is…
VERSE / PRE-CHORUS / CHORUS
VERSE / PRE-CHORUS / CHORUS
BRIDGE / CHORUS
The pre-chorus starts with the line "I want to thrill you like Michael." The section builds anticipation and energy going into the chorus which is just what a pre-chorus should do. Continue reading →