Every holiday season, we're surrounded with recordings of Christmas standards and traditional carols. Wouldn't it be nice if there were a few new songs every now and then? I mean, tradition is fine but we all need a break sometimes. So, how about giving us something fresh this holiday season, something just a little bit different?
Here's a list of contemporary holiday songs that take a slightly different approach to the season. I chose these songs because each one has something interesting to offer in the way of song craft or an inspired idea. Give them a listen and try some of these ideas yourself. Maybe you'll write the next holiday hit!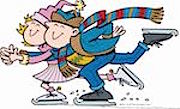 Most of our holiday standards are in good old familiar 4/4 time. How about breaking with tradition and writing a song with a different groove? There are some (but not many) wonderful holiday songs with a waltz feel – "The Christmas Waltz" is one of a handful that comes to mind. So, let's write a couple new ones. Time signatures based on 3 beats (3/4, 6/8, 12/8) evoke the swirl of falling snowflakes and skaters twirling on the ice. Perfect for the holiday season!
To hear a contemporary Country take on a holiday waltz, check out Alan Jackson's "Let It Be Christmas." The irresistible swing and sway give his sweet lyric an uplifting energy.
PLAY IT:  Let It Be Christmas – Alan Jackson
Don't feel like waltzing on the ice? How about a Christmas shuffle? Or explore more unusual time signatures, like 5/4 or 7/4. How about a Dave Brubeck "Take Five" feel this holiday!
Aren't we all getting a little tired of 'Auld Lang Syne" and "What Are You Doing New Year's Eve?" Continue reading →