There's an interesting trend I've noticed lately, something that might be fun and worthwhile, to try yourself. Duos, usually male/female, seem to be everywhere, especially in the film & TV and college markets. From the laid back lounge of The Bird and The Bee to the plaintive singer-songwriter style of The Weepies to the tuneful Indie Pop of Sleigh Bells, Matt and Kim, She & Him, Beach House, Chairlift and more, duos are hot.
Not your parents' duets
These days, male/female duos are not necessarily singing duets in the traditional sense. The song may feature a vocal by one partner singing about a personal experience, with harmony provided by the other vocalist as in the song "World Spins Madly On" by The Weepies.
Listen on YouTube.

Or one partner may be the sole vocalist while the other is primarily a producer/arranger. You can hear a good example in "Recreational Love" by The Bird and The Bee.
Listen on YouTube.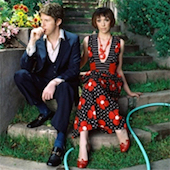 No matter how the vocals, instrumental performance, and production are split up generally  both members contribute to the songwriting and a distinctive, artistic sound. here's a good example by Chairlift, "I Belong In Your Arms." Continue reading →