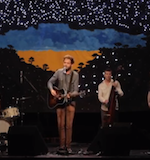 Until recently you would only have heard a thoughtful, acoustic-based folk song like this on college radio stations or eclectic NPR shows. Certainly not among Billboard's Top 10 Pop hits. But there it is, right there with Katy Perry, One Direction, and Pitbull. Wha? If you haven't heard this song on the radio then you've probably heard it on a national TV commercial or featured in series like "Elementary" or "The Vampire Diaries."
Take a look at the official video on YouTube and then let's dive deeper into this song to see what makes it work so well and how you can use some of these techniques in your own songs.
Official video on YouTube.

Read the lyric here.
The Shortcut numbers below refer to specific chapters in my books "Shortcuts to Hit Songwriting" ("Hit") and "Shortcuts to Songwriting for Film & TV" ("Film & TV").
GENRE/STYLE: Folk / Singer-Songwriter  (What is a genre?)
The lyric, melody, and structure of this song are all reminiscent of the folk genre, with a nod to both authentic English ballads and the folk songs of the 1960s. If you still love to sing "Where Have All the Flowers Gone" then this song is for you! There's even a subtle group sing-along on the chorus, almost as if everyone is gathered round the ol' campfire.
But even though the retro underpinnings are clearly there, the melody has interesting twists that give it a modern edge. If you've got a few old fashioned folk songs tucked away (and I know some of you do) consider giving them a facelift with these tricks. Continue reading →