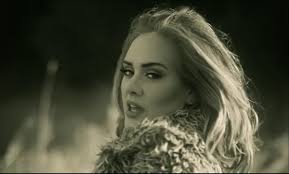 Here are three huge hits by Adele that are packed with songwriting tools you can use.
I often suggest in my songwriting posts that you learn to sing and play (or just sing ) successful songs. But why is that so important? Because you miss so much when you don't. It's like the difference between zooming down a highway at 80 mph versus rolling slowly along with your head stuck out the window.
When you slow down, you notice things… road signs, blue sky. You feel every bump in the road and the smells on the breeze. At 80 miles-per-hour you can feel the emotional rush; when you slow down, you can learn what the rush is made of.
I thought it might be fun for you and I to slow down and go through the process of learning to play and sing a hit song together. I chose "Hello" by Adele because, as I listen to it, the 80 mile-per-hour experience is pretty good, and something tells me that if I slow down and take a closer look, there might be some good songwriting tips I could use to create that experience in songs of my own.  So, let's take it for a drive. Continue reading →