My September/October newsletter is filled with great info and it can be yours right now!.
Song Tip: "Steal Like a Songwriter" – I've been enjoying a wonderful little book called "Steal Like An Artist" by Austin Kleon. In the book, Kleon points out that no work of art is truly original; all great artists are referencing those who have come before. As I was reading, every page made me think about my own songwriting process. My next thought was: I really want to share this with someone. And that someone is YOU. Find out what stealing like a songwriter means and how to use to to create fresh, exciting songs of your own.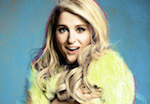 Study the Hits – "Like I'm Gonna Lose You" recorded by Meghan Trainor. Question: How do you follow up a platinum, career-launching single like "All About That Bass"? Answer: With two more relentlessly catchy, upbeat songs that build on a similar radio-friendly, retro-blend sound. Which is exactly what Meghan Trainor did. But after the third single – as much fluffy fun as it was – listeners were bound to wonder if things weren't starting to sound a little same-y. Time for something new: a ballad/duet with John Legend that slides perfectly into Trainor's throwback sound while revealing more emotional depth.
If you didn't get your newsletter, sign up in the EMAIL FORM at the upper right. You'll receive a Confirmation email. Click on the link in the email to confirm your subscription, then look for a "Thank You" email with the latest newsletter included. Your email is always private.