There's an interesting trend I've noticed lately, something that might be fun and worthwhile, to try yourself. Duos, usually male/female, seem to be everywhere, especially in the film & TV and college markets. From the laid back lounge of The Bird and The Bee to the plaintive singer-songwriter style of The Weepies to the tuneful Indie Pop of Sleigh Bells, Matt and Kim, She & Him, Beach House, Chairlift and more, duos are hot.
Not your parents' duets
These days, male/female duos are not necessarily singing duets in the traditional sense. The song may feature a vocal by one partner singing about a personal experience, with harmony provided by the other vocalist as in the song "World Spins Madly On" by The Weepies.
Listen on YouTube.

Or one partner may be the sole vocalist while the other is primarily a producer/arranger. You can hear a good example in "Recreational Love" by The Bird and The Bee.
Listen on YouTube.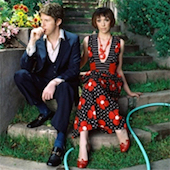 No matter how the vocals, instrumental performance, and production are split up generally  both members contribute to the songwriting and a distinctive, artistic sound. here's a good example by Chairlift, "I Belong In Your Arms."
Listen on YouTube.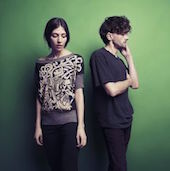 The Civil Wars came close to a classic duet in the haunted "Poison and Wine" in which the singers trade off riddling lines that paint a portrait of a pair of obsessed lovers. Not exactly Marvin Gaye and Tammi Terrell material, but right in line with today's Indie Folk/Americana style.
Listen on YouTube.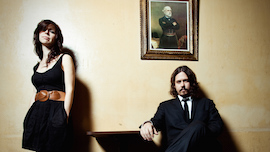 Who should try it?
It's a short hop from the popular singer-songwriter sound of John Mayer or Ingrid Michaelson to duos like The Weepies, The Bird and the Bee, Beach House, The Civil Wars, Little & Ashley, and Angus & Julia Stone. If you're a singer-songwriter, consider pairing up with someone else. It doesn't have to be for the long term and it doesn't need to be exclusive; you can keep your solo career going. But try stretching out a little. Maybe write and record a bare bones EP with four or five tracks in this style. Check out Ed Sheeran's "Songs I Wrote With Amy"  EP to hear this kind of project.
If your strength is production or instrumentals, think about writing with a vocalist. Work together to create a mood, a sound, and a lyric style you both like. Tailor your songs so that both of you get a chance to shine. A song like Chairlift's "I Belong In Your Arms" shows off the production almost as much as the vocal.
If you're a songwriter who doesn't perform, look for a singer-songwriter to co-write with, someone whose voice inspires you. If you can record the tracks in your home studio, you'll be in great shape. Depending on the style you write in, you can pitch to the film & TV market or to music publishers for established artists.
Being in a duo has advantages
Pick up your speed and output: A good collaboration can turn out material more quickly than a solo writer. Collaborators can keep each other focused on the work at hand. Knowing someone else is expecting you turn up with a new song idea or a chorus melody or a verse lyric is a great motivator.
Stretch out: Locked into a few old writing habits? Getting a little bored running around the same hamster-wheel? Share ideas with someone else. Let a co-writer finish a song of yours. Listen to their ideas. Try to hear things the way they do. Play your favorite artists for each other. Try writing a song together in a style you both like.
Record male and female vocals: In a duo you're not limited to either/or. You can write, pitch, and place both male and female vocals. Try recording two versions of a song, one with a male vocal and one female vocal. Blending voices also creates a fresh sound, a female lead with male harmony or vice versa.
Cover your own songs: Try a new approach to some of your old songs. Go unplugged. Feature a different vocal style or gender. It's a great way to recycle material.
Have fun blending styles: Many of today's duos are influenced by the production and song styles of earlier eras. Beach House is a great example of a duo channeling some classic sounds into today's indie Dream Pop genre ("Myth" by Beach House).
If you know the '60s, '70s, or '80s like the back of your hand because you grew up listening to those songs, think about putting together a duo with someone whose tastes and musical knowledge are ultra-current, then blend your two styles into something unique.
Where to look for your other half
If you're going to be performing together, an online collaboration with someone in a distant city could put a damper on things, so check out the local music scene first. If, on the other hand, you plan to write and record only (no performing), then online is fine.
LOCAL: Check out…
Clubs with live music
A local college or university music department
A chapter of a songwriting organization like NSAI
Anywhere a music scene is happening
ONLINE:
I recommend the Collaboration Corner on the TAXI forum. You don't have to be a TAXI member to join the forum but you can meet and write with folks who are. These songwriters are serious about their craft and they understand the various song markets. Go to the TAXI forum and scroll down to Collaboration Corner near the bottom.
What to do when you find a good prospect
The winning formula for getting together with a new writing and performing partner is: LISTEN. CONTACT. SHARE. TRY IT OUT.
LISTEN to their material.
CONTACT them if you like what you hear.
SHARE material you've each written plus artists and styles you'd like to aim for.
If you think it's a fit…
TRY IT OUT. Write together to see what happens.
What makes a duo work
The most important things is to acknowledge your strengths and highlight them. If your partner is a great singer and you're only so-so, hand over the vocal spotlight for a while and provide support. Mutual respect and a commitment to the best end result are the keys to turning out a steady stream of solid work. Sure you'll have days when you don't agree on things but once you find someone you want to work with, someone who has strengths and areas of knowledge that complement yours, then get to work and you'll overcome the tough times.
Two is greater than one
When your voices blend, when the songs you write together turn out different – and maybe better – than the ones you write alone, when that special something happens, hang on to it, nurture it, and then share it with world. We'll be waiting.
Have fun! Be creative! And may your songs flow!!! 🙂
by Robin Frederick