Cathy Heller is a go-to artist when it comes to licensing music to TV commercials. Her songs have been featured in major ad campaigns for McDonalds, Walmart, Petco, Quaker, KFC, and many others. For years, Cathy has been successfully pitching her own music and helping other artists do the same. In this podcast I ask her how she does it.
LISTEN TO THE PODCAST
Here's a convenient "Table of Contents" for the podcast.
Should you write with a specific market in mind? :50
Themes for the advertising market and general production style. 1:58
Song Example: "Better Together" – The Highfields (verse and chorus) 3:15
Why Indie Artists have an advantage in the ad songs market. 4:40
What advertisers pay for song uses. 6:35
How soon should you get to your theme in the lyric? 9:20
Lyric writing for ad songs. 10:20
Song Example: "Technicolor" – Tim Myers (verse and chorus) 11:00
What kind of production works best for advertising? 12:00
Song Example: "Gonna Make a Change" – Cathy Heller (verse and chorus) 13:55
Three production styles that work for ad songs. 15:00
The target market for ad songs. 16:20
Universal emotions work for everyone. 18:00
Writing for a brand vs. writing for your own album. 18:40
Artists and songs that crossover from albums to ads and TV shows. 20:15
What Cathy looks for when she considers pitching an artist or band. 21:45
Projects Cathy is working on: her new album and songwriting course. 25:05
You can can hear more of Cathy's songs and hear songs by the artists she represents on her website, CatchTheMoonMusic.com.
Learn more about writing songs for the Film & TV market in these posts on my songwriting blog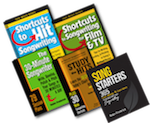 Visit my Author page at Amazon. In each of my  books you'll find dozens of useful, real-world shortcuts that will show you how to craft songs that work for today's music markets, plus dozens of hands-on exercises to get your creative ideas flowing.
Copyright Robin Frederick. All rights reserved. Reprints by permission.