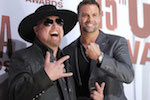 Talk about an irresistible bunch of fun! This song has listener appeal from the first line to the last. It's a great Contemporary Country party song with a sing-along hook that's a killer. Let's take a look at how it all works together.
TECHNIQUES TO HEAR AND TRY:

• Try a sing-along post-chorus for a party anthem!
• Use images to bring a character to life.

• Fake out the listener with your melody.

Read the lyrics here: One In Every Crowd – Montgomery-Gentry
Recorded by Montgomery-Gentry
Writers: (Ira Dean / Kim Tribble / Eddie Montgomery)
GENRE/STYLE  (What is a genre?)
The genre is Contemporary Country, verging on Country Rock. The song went to #5 on Billboard's Hot Country Songs chart. The lyric has a conversational, heartland twang with plenty of references that Country Rock fans will adore. Freebird, Harleys, and six-packs are front and center. Continue reading →