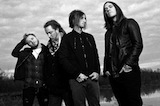 Let's say you're a hard rockin' band out there working the club circuit. You'd like to get a record deal but can't seem to interest a label. Your fans love you. You put on a killer live show and tour like crazy, so why won't the the music industry sign you up?
You may have everything going for you except one thing — you need at least one or two songs that sound like they could get radio airplay either on the big commercial radio stations or on major college radio stations. Record labels know that getting radio airplay is the key to rapid career growth; it will be a key part of their marketing campaign for any group or artist.
So, what's the difference between a good song that energizes fans at a live performance and a song that can get radio airplay? Let's take a look at Shinedown's hit "Sound of Madness," a powerhouse of a rock song with huge radio appeal, a strong lyric theme, and an unusual but very memorable, contemporary melody.

Recorded by Shinedown
Written by Brent Smith, Dave Bassett
Read the lyrics here.
STRUCTURE
This song opens with three verses. The first one acts as a kind of intro. It's sung an octave lower than the rest of the verses and sets up the situation in the song. After the intro, there are double verses before the first and second choruses. Here's the structure:
VERSE 1 (intro) / VERSE 2 / VERSE 3 / CHORUS
VERSE 4 / VERSE 5 / CHORUS
INSTRUMENTAL BRIDGE / CHORUS / CHORUS
In genres like Pop and Country, Verse 3 and 5 would be pre-choruses. The Rock genre goes for a more straight ahead style that leans more on repetition to make its point.
LYRIC
The double verses in this song give the singer a chance to say what he wants to say. The lyrics are vivid, filled with powerful language and images. Continue reading →